Product: http://www.spytecinc.com/inventio-hd-plus-1080p-video-sunglasses.html
Submitted Product Review (on their site): https://yotpo.com/go/tu0weBOz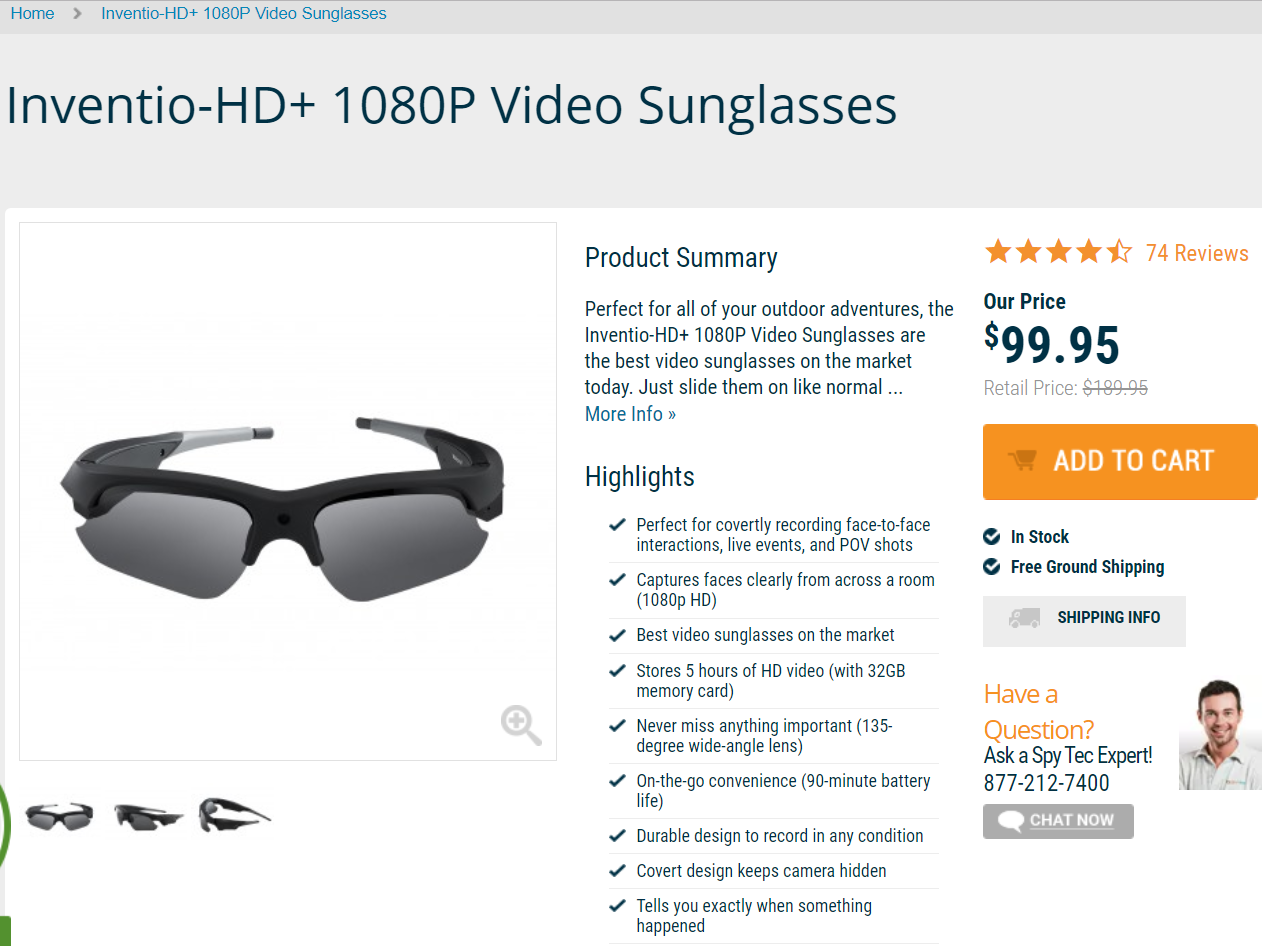 Purchased May 2018, reviewed June 2018. Video to come.
The following was submitted to their Google review request through a confirmation email: 
---
The video quality is pretty standard for tiny cams like this. It does a good job of auto exposing and does good outdoor and evening exposures. Indoors with a single 100 W lighting setup it starts to fall apart.
Problems: It sits high on the bridge of my nose because the bridge arch is narrow. I'm a European descendant Caucasian. This makes the camera for in-car driving point toward the sky instead of the road, even though the polarized lenses fully protect my eyes from the sun outside (great lenses and the gap on the bottom due to a shorter lens than my store brand glasses is fine for driving). I had to angle the glasses downward to see the road making the arms not sit on my ears and pinch on my skull an inch above my ears (not on my temple because the arms were long and curved so it was uncomfortable, but I would imagine it would look weird in public). Another issue from it angling up was that trying to capture POV shots of disassembling my phone was impossible–I totally missed everything when it sat properly on my ears AND when i pushed it to the angle that worked for driving. It needs to be angled even further downward making the arms sit ridiculously high on my head.
On that note, the field of view (65 degrees on box, their site says 135 degrees, confirmed by clicking the link from my order) is very narrow for either driving or POV of hand-held work. I could not see the side-view mirror or rear view mirror or dashboard in the shot when looking straight ahead. Also it has a focus range that starts at a few feet away and goes to infinity and doesn't change, once again making it useless for up-close work (where it doesn't focus). Even focusing on the table was questionable and I'll have to review my footage to see if it did a good job of that, but using my kitchen lighting my guess is that it had a hard time with that too.
Another phenomenon was that I accidentally had a stray hair fall in front of the lens and it started to strobe its exposure and I could see a blurred signature of something in the image.
The file quality is great and records about 100 MB/min using 1080p 30fps mode (the only mode). I was disappointed that I couldn't find any format option on the SportDV.txt file. I thought this product had options for file format, but the website listing and box say only 1080p 30fps, though it does advertise a 60fps image stabilization which is not a record rate. Others say that 60 fps would probably make viewing easier because of all the head movement, but I found the video while driving very watchable, and it never gave me a head ache.
Seems like I'll be looking for a 170 degree camera that has a wider nose arch (or receiving the advertised 135 degree camera). I'm not against using SpyTec, but I'm happy they have a return policy. On the business end, they delivered on time (or earlier I think, cross-country), the product is spiffy and user-friendly (text file modification is easy enough for me), and their follow up emails are professional. The only strange thing is the box saying 65 degree field of view and the site saying 135. Off by a factor of 2? I'll eventually edit my video review so look for this review text on YouTube and you might see that (I'm not a full time reviewer, just want consumers to know).
---